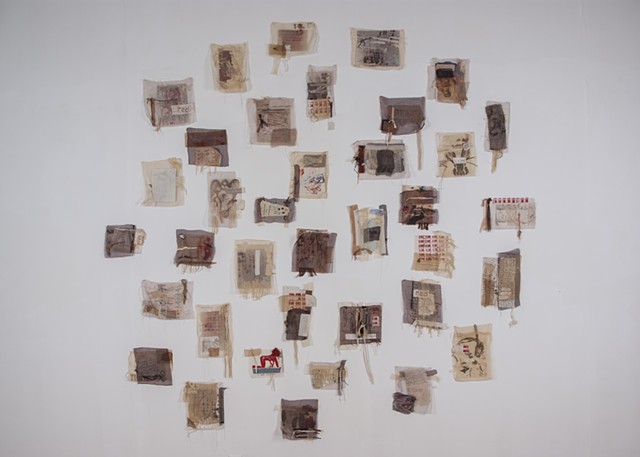 Madalynn Olmsted, Advanced Fibers, Spring 2016. Mixed media fabric collage installation. University of Missouri.
Madalynn Olmsted (BFA 2017) received a Surface Design Association 2016 Outstanding Student Award. Her work was published in the Winter 2016/2017 Surface Design Journal.
Olmsted has displayed four sculptural fibers works entitled Nurture, Lost, Harmful Home and Healing in the Undergraduate Visual Art and Design Showcase in January 2016 where she received a merit award for funding professional development.
Olmsted participated in the Emerging Artists Residency she was awarded by Columbia's Resident Arts. The program provides emerging artists with one-on-one career consulting, the opportunity to participate in up to five professional development workshops free of charge, documentation services and 24/7 access to studio space. Olmsted's residency began February 5 and continued through June 2016.
She was successfully nominated for a scholarship to attend a one-week workshop, Encaustic: Layering Paint, Collage and Content, Instructor: K. Rhynus Cesark, June 2017 at Arrowmont School of Arts & Crafts, Gatlinburg, TN.