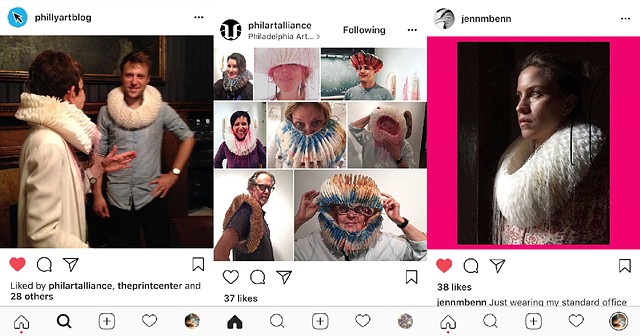 Give and Receive, 2008-2019. Machine sewn coffee filters and thread some stained with indelible inks, each ruff approximately 15"x8"x5".
In the 2017 exhibition, Remains: Process and Production in Craft, at the Philadelphia Art Alliance, visitors of the gallery photographed themselves wearing the ruffs and posted the images to Instagram.
I currently have an evolving collection of over fifty ruffs made from coffee filters and machine sewn with a variety of colored thread. Several are stained intentionally with indelible inks but most are either natural light tan colored or bleached white. The ruffs are placed on gold hued brass coat hooks in an exhibition space. The ruffs are meant to be removed from the wall by visitors and worn on their necks, heads, arms or as the interpret the garments. I found through presenting the installation on coat hooks it facilitates interaction more readily than a nails or other fixed hanging devices. The ostentatious gold brass hooks support the ridiculousness and impracticality of the ruff which symbolized wealth, status and power during sixteenth and seventeenth century Western Europe.